Från och med den 1:a april heter ProSales Mercuri International Research. Namnbytet är ett resultat av att Prosales sedan 2019 är en del av Mercuri International. Mercuri International Research fortsätter att leverera The Sales Conference och i år går konferensen av stapeln den 18:e november.
The Sales Conference grundades 2008 av ProSales Research, som ett resultat av flera forskningsprojekt. 900 personer registrerade sig för utgivningen av den första forskningsrapporten, "Sales Efficiency Excellence" och så föddes The Sales Conference. Idag är The Sales Conference norra Europas största konferens med 6880 registerade gäster från 78 länder under 2020.
The Sales Conference fokuserar på de senaste trenderna kring framtidens försäljning och marknadsföring, och erbjuder en unik möjlighet att komma i kontakt med branschens viktigaste beslutsfattare. Mercuri Internationals globala närvaro och framgång inom Sales Excellence är en perfekt plattform för The Sales Conference när eventet växer till en global konferens, ett 'måste-event' för B2B Executives inom försäljning och marknadsföring.
"The Sales Conference 2020 outcome was fantastic. From an on-site event with 1000 Nordic decision-makers present to a fully International event with over 4000 digital participants. The 2021 event is going to be spectacular. This year we are aiming for a Hybrid Event with international known Key-note speakers on the stage and will be launching 'The State of B2B Sales' study together with our partners." – Katarina Bäckman Hed, Project leader and Executive Producer of The Sales Conference.
När försäljnings- och marknadsföringsvärlden genomgår en period av påskyndad digitalisering och förändringar i våra arbetssätt, ger eventet en möjlighet för säljare att bedöma branschens nuvarande läge och få värdefull insikt i framtida utmaningar och möjligheter.
"I have had the pleasure to participate in this fantastic landmark event over the last three years and last year was exceptional, since the event went from 100% face to face to 100% live-broadcast event in a very short period of time. Everyone that wants to be at the forefront in the sales and marketing area should sign up for this conference – I am proud that Mercuri International is now part of this Thought Leadership Event."

Frank Herbertz, CEO of Mercuri International
Biljetterna till The Sales Conference släpps på fredag den 21:a maj. För mer information om eventet besök www.thesalesconference.se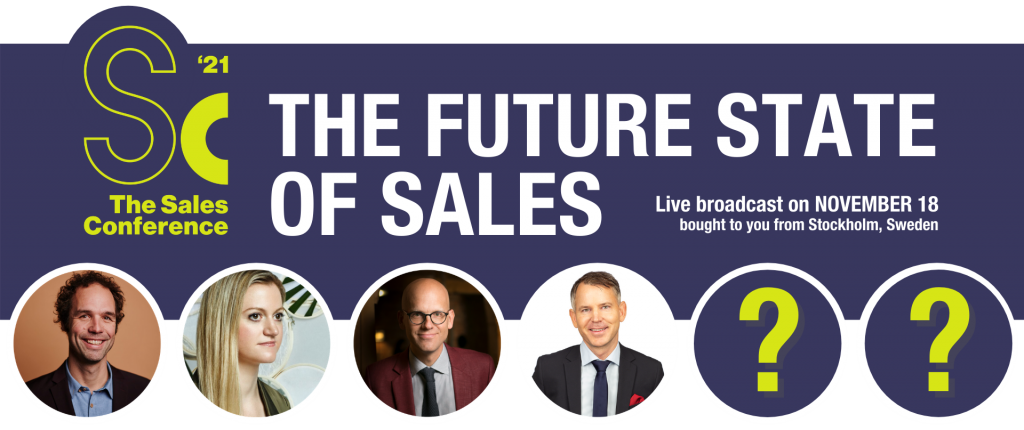 Kontakt:
Kristina Westerlind, CMO
Mercuri International Group
Email: kristina.westerlind@mercuri.net
Telephone: +46 708 20 10 06
Katarina Bäckman Hed, Project Manager and Executive Producer The Sales Conference
Email: katarina.hed@mercuri.net
Telephone: +46 720 72 00 00